Whether you are hanging art in your home or hanging art in a venue, you want to be sure you are hanging it using the right tools that won't damage the wall and will be able to support your artwork.  Here are some of the most popular methods to hang artwork:
Nail and Picture Hook
Using a nail and picture hook is the most common way of hanging art.  If the painting weighs more than 25lbs, you will want to use a stud finder to find a locate a stud on the wall.  Mark the spot with a pencil.  Hammer the nail into the wall, attaching the picture hook.  There are an assortment of different picture hooks available that are capable of supporting different weights.  The more nails the hook requires, the higher the load it can support.  The hooks pictured to the left are are available at Blick and support a weights from 10lbs to 75lbs depending on the number of nails required.
Pros: Quick installation, Inexpensive solution
Cons: Leaves holes in walls, Limited weight support, Requires a stud in wall to support more than 25lbs
For more information, see "How to Hang a Picture" at ehow.com
3m Hooks
3m Hooks are becoming more and more popular because they do not damage the wall at all.  They use a special adhesive that is easy to remove without leaving residue or damaging the wall.  They are only suitable for hanging paintings that way less than 5 lbs.  Since they are limited to single use, they can get some what expensive if you are swapping out the art in your venue or home regularly
Pros: Do not damage wall, Easy to remove
Cons: Can only support up to albs, Can get expensive if moving art often
For more information, see "How to Install: 3m Command Hooks" 
Threaded Drywall Anchor or Toggle Bolt
When hanging heavy paintings into dry wall without a proper stud, using a threaded drywall anchor or toggle bolt can be an appropriate solution. Installing either of these will require pre-drilling a hole in the wall.  If the artwork being hung is very heavy, we recommend using the toggle bolt. Toggle bolts are extremely strong.  Even a small 1/8″ toggle can safely hold 50lbs on 1/2″ drywall and a 3/8″ toggle can hold over 100lbs.
Pros: Can hang very heavy artwork in drywall without a stud
Cons:  Leave a large hole in wall, Difficult to install
For more information, see "How to Hang Heavy Objects Using Toggle Bolts" at youtube.com
Rail Art Hanging System
If you are serious about displaying artwork in your home or venue, an art hanging system is the clear choice for you. These rails systems require an initial one-time installation, but then artwork can be swapped out easily with no tools or damage.  The  art hanging systems consist of a rail that is attached to the wall, wires to hang from the rail, and hooks that attach to the wires.  After much research, we like the Cliprail Pro Art Hanging System distributed by Quadro Frames.  They are extremely easy to install, inexpensive, and it is a breeze to swap out artwork.  We recommend all of the venues that are a part of the ArtVenue network install this hanging system.
Pros:  Easy and quickly swap out artwork, No need to repurchase hanging materials, no damage to walls, can support heavy artwork
Cons: Higher up front cost, more involved installation
For more information, see "Cliprail Pro System" at ArtHangingCenter.com
Video: What is an art hanging system?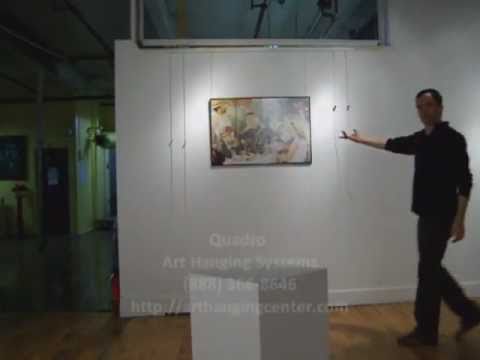 What method of hanging have you had the best results with? Respond in the comments section below!